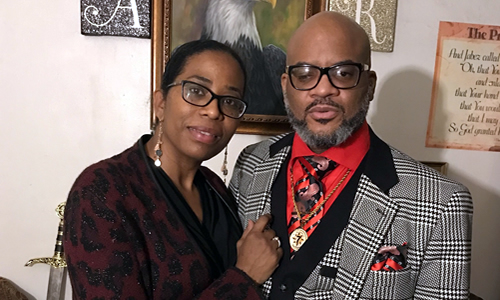 But God hath chosen the foolish things of the world to confound the wise; and God hath chosen the weak things of the world to confound the things which are mighty; And base things of the world, and things which are despised, hath God chosen, yea, and things which are not, to bring to nought things that are. That no flesh should glory in his presence."
1st Corinthians 1:27-29 My name is Alexander Gray I am the Apostle of Living Love Ministries, International, Inc. in the Bronx. NY Before I accepted the calling on my life, my beginnings were truly humbling. I lost my father very early in my life. at that time I eleven and he was only thirty-two years young . It was hard for me to find where I belonged on this earth.
It was on the streets of New York that I was living the life of a homeless man. I was addicted to crack cocaine and alcohol for ten years. My life changed for the better in Brooklyn, New York on July 12, 1992. On that day I received Jesus Christ as my personal Lord and Savior at the Christian Life Center under the leadership of Dr. A.R. Bernard, Sr.
I needed a place to live so the Lord led me to the Bronx. On or around July 26, 1992, I met Pastor John Alan Fisher of Doers of the Word Christian Center. Pastor Fisher was my first spiritual mentor. The Lord used Pastor Fisher to show me the love of God the father and also he was someone very concerned about my life.
What he has done in my life was to show me not only God"s love but also how important it is to believe in someone who nobody thought was any good. He is the one who the Lord used to get me back on my feet. Words cannot convey how much he has helped me make my life better.
I started in ministry in 1992 winning souls to the Lord and prophecying to people wherever I could find them; on street corners, in subway stations, on the trains, in bathrooms, on buses and in grocery stores. While I worked on various jobs I was winning souls. At this time in my life I continue to avail myself to winning souls and releasing the prophetic word into their lives. to this day I'm still hungry for more of God and to work in his Kingdom wherever the Lord leads me. I am always willing to face the challenge. Since 1992 when Jesus came to me in an open vision my life and passion for God is Growing with a FIRE that won't go out , my love for him is my pursuit .
On November 24, 2002, I was ordained by Pastor Fisher to the office of an Evangelist. Our Lord Jesus Christ released me to the office to Pastor Living Love Ministries, International, Inc. on April 27, 2003. All services are held at Doers of The Word Christian Center in the Bronx, New York.
I've had the opportunity to preach in London, England and Bangkok, Thailand. In 2005, I went to Ontario, Canada to bring proof that Jesus Christ is alive, by His love and by His Resurrection power. The Lord had promised me that I would go around the world with the Revival message of Jesus Christ.
On November 14, 2003, I was ordained under the covering of Pastor Jeff Johns at Whitehorse Christian Center in West Lafayette, Indiana. Apostle Alexander Gray lives in Bronx, NY with his wife Kwafi Gray
On June 18, 2005, I received my Bachelors of Theology degree with a major in Divinity. As Jesus made changes in my life he can make changes in yours also. The Lord lifted me up from crack cocaine addiction, alcoholism, abuse, abandonment and immorality to be a man of God who is consumed with the zeal of the Lord.
I also receive visitations from the Lord who called me to preach the Word of God with such conviction and boldness that there was no room for compromise. I flow powerfully in the healing ministry with a prophetic touch and I teach the Word of God with revelatory authority and simplicity.
In closing, I would like to say that I am truly thankful to the men that the Lord has used to bring impartation, correction, stability, and balance in my life: Dr. A. R. Bernard, Sr., Pastor John Alan Fisher, Apostle Dr. John Tetsola and Dr. Jeff Johns.
Thank you for your love and help in my life. May the Lord continue to use you to be a blessing to many sons and daughters of the Gospel and for obeying the Lord.
With much gratitude,
Apostle Dr. Alexander Gray